Description
Messmer's Timberflex Color is a multiple coat system which gives a beautiful, varnished appearance to exterior log and timber frame wood homes. Messmer's Timberflex is a film forming stain finish product Flexible Film Forming Log Home Finish Available in 9 Colors plus Gloss, Satin topcoats Mildew Resistant Coating Exceptional Color Retention Timberflex is an excellent choice for customers seeking a premium natural wood finish for vertical surfaces. Suitable for homes constructed with full logs or log siding, timber frame, or other wood siding, the three coat system beautifies and protects exterior wood. With the highest quality pigments and UV absorbers, high solids content, and state of the art fungicides, Messmer's Timberflex products are a great alternative to more expensive competitors. This product is intended for exterior use.
Messmers Timberflex log home color chart: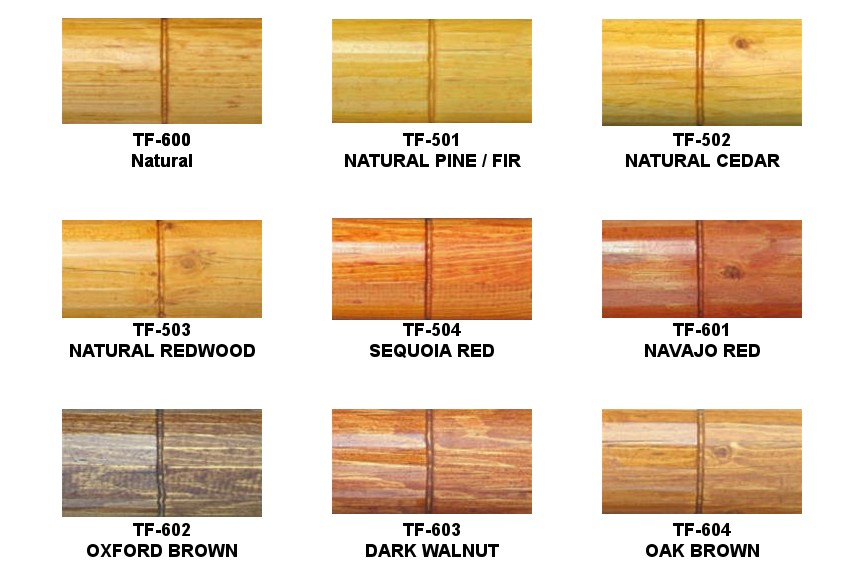 Messmer's Timberflex Color coverage:
1st Coat: 150 to 200 sq. ft. / GL
2nd Coat: 250 to 300 sq. ft. / GL
3rd Coat: 300 to 400 sq. ft. / GL
Timberflex colors, one gallon covers 75-150 square feet of wood surface with the recommended two coats.
Optional: Use three color coats to yield a gloss finish and deeper colors than two color coats.
Messmer's Timberflex Top Coat gloss or satin topcoat, one gallon covers 200-400 square feet with the recommended one coat. OIL BASED
Timberflex is for vertical surfaces only. Do not use on decks or any other walking surface.
Step One:
Start with a clean surface Make sure the wood surface is clean, dry and in good condition. If necessary, use a good quality wood cleaner to prepare the surface. Any loose, peeling or flaking previous finish should be removed. Apply the first coat. Cover plants, grass, concrete, trim, and any other areas you don't want finished. Stir product thoroughly, making sure that all pigment is mixed evenly and there is no thick material at the bottom of the container. Apply one coat of Timberflex in your choice of colors following label directions. If spraying, it is recommended to "back brush" or roll the product to make sure that it fully penetrates into the wood. Allow at least 24 hours in good weather for the product to dry. A slightly tacky feel will be normal between coats.
Step Two:
Apply a second coat of the same product Apply a second coat of Messmer's Timberflex color in the same color. Product will begin to build a film on the wood with the second coat. Allow at least 24 hours to dry, in good weather conditions. Cooler temperatures may require longer drying times.
Step Three:
Apply the third coat using Clear Gloss, Clear Satin, or the same color coat used for coats 1 and 2 Apply a third coat, using either the same product to yield a glossy finish with deeper color, or Messmer's Timberflex Top Coat Gloss or Satin clear topcoats. Clean up Following label directions, dispose of waste including roller covers and brushes in a water filled container. Seal the container and dispose of it properly.
Other Facts:
Recommended to Re-apply clear top coat every 2-3 years.
Do not use Top Coat clear on bare wood.
Recommend to apply between 45 and 90 degrees
Q: What is Timberflex?
A: Timberflex is a film forming natural wood finish designed for vertical walls, log homes and fences. On bare wood, it requires at least three coats for proper appearance. The first two coats should be color coats, followed by a clear coat in either a gloss or satin finish. Allow at least 24 hours between coats in good drying conditions.
Q: Why can't I have a clear finish without pigment?
A: Clears do not provide color retention. They fail quickly and the wood underneath will gray. We have shaded our clear topcoats with transparent iron oxide pigments to provide extended color retention and protection for the wood, yet maintain a clear natural appearance.
Q: What is the best way to apply Timberflex?
A: Timberflex can be brushed, rolled or sprayed. The typical application is to spray on the coating and then back brush or back roll to achieve uniform film thickness.
Q: Can Timberflex be applied over another stain?
A: Yes, provided that the surface is sound and clean. Remove any flaking or peeling previous finishes. Do not apply over freshly stained projects or over coatings with stearates, waxes, silicones or Teflon.